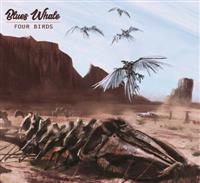 Nog een band van het Spaanse (Baskische) Gaztelupeko Hotsak label is Blues Whale. Het is een band die in 2012 in Zaragoza het licht zag. Zaragoza is de op vier na grootste stad van Spanje. Het is de hoofdstad van de gelijknamige provincie en van de autonome regio Aragón. De stad ligt aan de rivier Ebro, in een vallei met een landschap van bergen, bossen en woestijnen.
De leden van de band zijn Pepe Vázquez (zang, gitaar, mandoline), Roberto Artigas "Gran Bob" (harmonica, ukelele, banjo, zang), Apolo "Stickman" Ruiz de la Hermosa (bas, ukeass, cello, b-vocs) & Juan Millán (drums, washboard, b-vocs). Hun muziek is een amalgaam van stijlen, een kruispunt van Amerikaanse roots muziek, daar waar Blues, Country en Folk de basis worden van eigen ideeën.  
Na hun debuut 'Double Side Mojo' [2015], was de tijd rijp voor de opvolger 'Four Birds'. Ze trokken naar de studio en namen er elf eigen nummers op. Alle nummers drijven op een blues basis, maar hebben ook herkenbare folk, country en roots invloeden. Het album werd opgenomen in Audiofeeling studio met Diego Gracia als opnametechnicus. De nummers balanceren tussen akoestisch en elektrisch, een item waarvoor de band ook live gekend is. Van het van de dromerige en landelijke, met onmiskenbare tinten van folk "What Else", waarmee het album opent, naar het elektrische en meer bluesy "Trouble" in de volgende track, naar "She Never Says She Loves Me" waar swing, jazz en blues door één deur moeten. Met het emotionele "Miss Mean" scoort de band met een uitstekend nummer dat in country folk heel wat mogelijkheden zag en knap benutte. "Fish in a Bucket" is opgebouwd rond een blues riff van Pepe Vázquez, wordt opgesmukt met een harp solo van "Gran Bob" Artigas, maar blijft erg funky. Akoestisch is "So Long Romantic Films" en het frêle, subtiele "Little Things That Count". De titelsong "Four Birds" is misschien wel de meest bluesy song, "Diving Down the Hole" de meest folky/country song en met het erg knap gezongen "Wayfaring Stranger" (een traditional) halen we Johnny Cash in huis. We sluiten af met "Looking for a Gig", een country blues getint nummer met Artigas' opwindende banjo.
De jaren ervaring zijn duidelijk de basis geworden van het tweede album van Blues Whale. 'Four Birds' is een uitstekend en gevarieerd roots album. Roots liefhebbers, dit is jullie ding!
" The years of experience have clearly become the basis of the second album from Blues Whale. 'Four Birds' is an excellent and varied roots album. Roots lovers, this is your thing, take your chance!... " (ESC for Rootstime.be)
Eric Schuurmans
Album track list:
01. What Else - 02. Trouble - 03. She Never Says She Loves Me - 04. Miss Mean - 05. Little Things That Count - 06. Four Birds - 07. Fish in a Bucket - 08. Diving Down the Hole - 09. So Long Romantic Films - 10. Wayfaring Stranger [traditional] - 11. Looking for a Gig / Words/music © 2019 by: Blues Whale - Produced by: Blues Whale
Album line-up:
Pepe Vázquez: lead vocs, e- & a- guitar, mandolin / Roberto "Gran Bob" Artigas: harmonica, ukulele, banjo, a- guitar, vocs / Apolo Ruiz de la Hermosa: bass, ukubass, cello, b-vocs / Juan Millán: drums, washboard, b-vocs
Discography Blues Whale:
Four BIrds [2019] | Double Side Mojo [2015] |