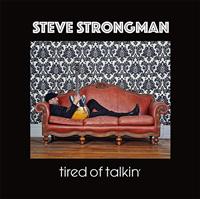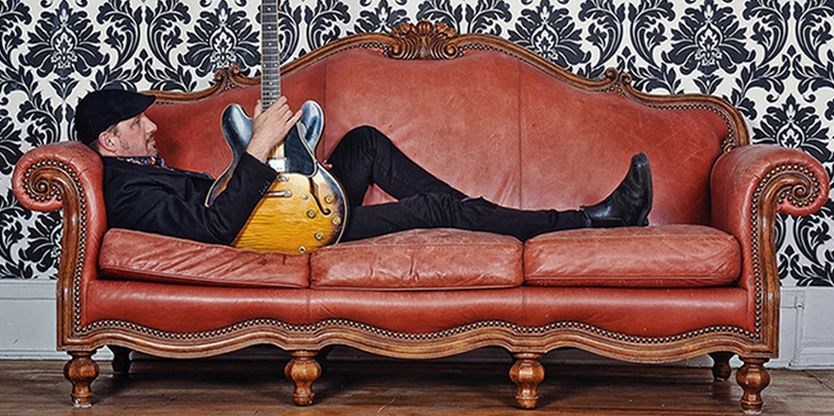 Juno Award winnaar Steve Strongman is afkomstig uit Hamilton, in de staal regio, in het zuiden van de Canadese provincie Ontario. Hij debuteerde in 2007 met 'Honey', maar met zijn album 'A Natural Fact' brak hij in 2012 definitief door in de blues & roots scene. Strongman won (van de zes nominaties) drie Maple Blues Awards (Recording, Songwriter & Guitarist of the Year) & de Juno Award als "Blues Recording Of The Year". De Juno Awards zijn de belangrijkste muziekprijzen in Canada. Ze worden jaarlijks uitgereikt door The Canadian Academy of Recording Arts and Sciences (CARAS) aan Canadese zangers en bands. Ook nieuwe leden van de Canadian Music Hall of Fame worden bekendgemaakt tijdens de uitreikingsceremonie.
Blues man Steve Strongman trad wereldwijd op tijdens belangrijke blues festivals en deelde het podium met BB King, Buddy Guy, Jimmie Vaughan, Joe Cocker, Robert Cray, Ronnie Earl, Roy Clark, Otis Clay, Jeff Healey… om er maar enkelen te noemen.
'Let Me Prove It To You', het genomineerde Mapple Blues album dat we hier in 2014 bespraken, was zijn vijfde album. Het album werd in één wintermaand opgenomen onder toezicht van producer Rob Szabo. Steve kreeg de hulp van enkele gastmuzikanten, waaronder Adam Warner (drums), Mark McIntyre (bas), Marc Rogers (bas), Guy Bélanger (harmonica) en Emma–Lee (backing vocals) om de backing van de reguliere basismuzikanten te versterken (Dave King / Alec Fraser / Jesse O'Brien).
'Tired of Talkin'' (de opvolger van 'No Time Like Now' [2017]) is de titel van het nieuwe studio album van Steve Strongman. Het is een album dat op twee plaatsen (Creative Workshop - Nashville, TN en 51 Sounds - Hamilton, ON) met producer/drummer Dave King opgenomen werd. Tijdens de Nashville sessies maakten Pat Sansone (keys, piano, gitaar), Audley Freed (gitaar) en James Haggerty (bas) deel uit van de backingband. Colin Lapsey was de bassist en Jesse O'Brien de toetsenist in Nashville.
Met de titeltrack en Jesse O'Brien achter de honky-tonk piano opent Strongman zijn nieuwe album stevig rockend, alsof er geen vuiltje aan de lucht is. "Paid the Dues" is een shuffle, met Strongman zelf op harmonica die terecht de aandacht opeist. Met "Still Crazy About You" gaat het tempo omlaag, de sfeer gemoedelijker en de uitspraken openhartiger. "Can't Have It All" is een boogie met rockabilly trekjes, "Livin' the Dream" een extra portie rock en "That Kind of Fight" een ballade, het rustige intermezzo dat hier de harten smelten doet. Al vanaf de eerste akkoorden zit het ritme van "Hard Place and a Rock" goed en wordt de groove aanstekelig en, Strongman trekt met ons daarna naar de Swamps aan de Mississippi, als hij het over de "Highway Man" heeft. Eindigen met een wens en goede voornemens is wat Strongman tenslotte in "Let's Stay Together",de erg herkenbare afsluiter doet.
'Tired of Talkin'' van Steve Strongman is een uitstekend Canadees blues rock exportproduct van Steve Strongman. Het album werd gedaan in twee opnamesessies, wat de kwaliteit zeker niet schaadt. Steve Strongman is de blues man die ook bij ons velen zal verbazen. 
" Take some time for 'Tired of Talkin'' by Steve Strongman. He's the blues man who will surprise many of us too!... " (ESC for Rootstime.be)
Eric Schuurmans
10 cd's te winnen!
Wil je daar kans op maken, dan mail je ons gewoon even:
je naam, je adres en de vermelding:STEVE STRONGMAN
Binnen een aantal weken wordt uit alle inzendingen de gelukkigen getrokken.
Wij hopen dat u massaal Rootstime - hier - zult mailen
De winnaars worden per mail verwittigd.
Album track list:
01. *Tired of Talkin' - 02. Paid the Dues - 03. Still Crazy About You - 04. Just Ain't Wright [w/ Freed, Haggerty, Sansone] - 05. Can't Have It All - 06. Tell Me Like It Is - 07. Livin' the Dream - 08. That Kind of Fight [Strongman] - 09. Hard Place and a Rock - 10. Highway Man [Strongman] - 11. Bring You Down - 12. Let's Stay Together [Green, Mitchell, Jackson Jr.] / Words/music © 2019 by: Strongman, King, O'Brien (1), unless otherwise [noted: 12] - Produced by: Dave King / Nashville, TN sessions (1,4,7,8,11,12), Hamilton, ON sessions (2,3,5,6,9,10)
Album line-up:
Steve Strongman: vocs, a- & e- guitars, dobro, harmonica / Dave King: drums, b-vocs / Colin Lapsley: bass, b-vocs (Hamilton sessions) / Jesse O'Brien: piano (1,3,6) / Pat Sansone: keys, piano, a- guitar (Nashville sessions) / Audley Freed: e- guitar (Nashville sessions) / James Haggerty: bass (Nashville sessions) & Additional b-vocs: Ella & Scarlett Strongman (5,6)
Discography Steve Strongman:
Tired of Talkin' [2019] | No Time Like Now [2017] | Let Me Prove It To You [2014] | A Natural Fact [2012] | Live At The Barn, by The Steve Strongman Band (CD/DVD) [2010] | Blues In Colour [2009] | Honey [2007] |