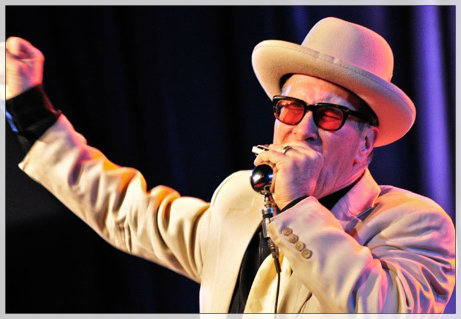 " Mark Hummel is moving forward by looking backwards… "
Grammy genomineerd en Blues Music Award winnaar, harmonicaspeler, singer-songwriter, bandleider, schrijver en impresario Mark Hummel werd in 1955 in New Haven, CT, geboren en groeide op in Los Angeles, CA. Zijn ouders huurden Mexicaanse babysitters in, die vaak R&B en soulmuziek op de radio speelden toen ze voor hem zorgden. Het was door deze babysitters dat Hummel voor het eerst in contact kwam met zwarte muziek. Al vroeg werd hij aangetrokken door de muziek van Jimmy Reed en Slim Harpo. Hummel begon als hij op school zat mondharmonica te spelen en, tegen de leeftijd van zestien speelde hij al in bands.
Zijn eerste optredens deed Hummel in de Ash Grove club in Melrose Avenue in LA en vanaf 1985 toerde hij met zijn band de Blues Survivors. Hummel is te horen op meer dan 30 albums, waaronder de Blind Pig Records' release 'Remembering Little Walter' [1985], dat voor een Grammy genomineerd werd en twee Blues Music Awards won.
Mark Hummel is ook heel bekend van zijn Blues Harmonica Blowouts waarmee hij in 1991 in Berkeley, CA, begon en, die uitgroeiden tot het belangrijkste harmonica evenement van de West Coast. Voor 2020 zijn er de "Superstars of Blues Rock Harmonica" gepland, met o.a. Magic Dick (J. Geils Band), Lee Oskar (War) en Jerry Portnoy (Buddy Guy, Eric Clapton), de "Special Guest" is Duke Robillard. 
" Hummel is moving forward by looking backwards and he's picked a sweet spot in Blues history to explore, the glorious Bluebird Records sound of the 1930s and '40s… "
Voor zijn nieuwe project 'Wayback Machine' verdiepte Mark Hummel zich in de geschiedenis van de Bluebird Records, een platenlabel dat vooral bekend staat om zijn goedkope releases, voornamelijk van blues en jazz in de jaren dertig en veertig. Het werd in 1932 door Eli Oberstein opgericht als een goedkoper dochterlabel van RCA Victor label, om te kunnen concurreren met de low budget labels. Het Bluebird label werd bekend om de "Bluebird sound", die kwam van dezelfde sessie band, die op meerdere opnames te horen was om de prijs te drukken. De band bestond uit muzikanten zoals Big Bill Broonzy, Roosevelt Sykes, Washboard Sam en Sonny Boy Williamson. Het Bluebird label werd de thuisbasis van Chicago-blues en beïnvloedde de R&B en vroege R'n'R.
Hummel kreeg in de Greaseland Studio's in San Jose, CA, waar hij de nummers met Kid Andersen opnam, de steun van Chicago "first call" gitarist Billy Flinn, het combo The Deep Baement Shakers (Aaron Hammerman: piano, zang & Dave Eagle: wasbord, percussie) en Mississippi bluesman, zanger/gitarist Joe Beard. 
Voor het album schreef Hummel zelf twee nummers ("Road Dog" en "Say You Will") en koos hij ook nummers van Bluebird artiesten zoals Arthur William "Big Boy" Crudup. Verdere namen zijn onder meer "(Sweet) Pepper Mama" van Robert Lee McCoy (aka Robert Nighthawk), "Cut That Out" -  "Good Gal" & "Reefer Head Woman", de drie nummers van Sonny Boy (John Lee) Williamson en de subieme ragtime instrumental "Breathtaking Blues" van W. Hood. Smaakmakers zijn hier ook Hudson Whittaker ("So Much Trouble" -  "Play With Your Poodle") en W. M. Gillum ("Crazy About You" - "Gillum's Windy Blues"). De laatste drie nummers, met Mr. Beard op zang, zijn van een intenser karakter, met name Eddie Boyd's "Five Long Years" en "Mean Old Frisco" van Arthur W. Crudup.
Knap hoe Mark Hummel ons op 'Wayback Machine' weet mee terug te nemen naar de tijd van het Bluebird label en ons midden in een lang en interessant verhaal dropt. Met deze opnames begrijpt zelfs iedere harmonica dummies wat deze sound betekent. Ik hoop dat Hummel terug in zijn Wayback-machine springt om nog meer van deze verhalen halen.
" It's great how Mark Hummel manages to take us back to the time of the Bluebird label on 'Wayback Machine" and drops us in the middle of a long and interesting story. I hope Hummel jumps back in his Wayback machine to get us even more of these great stories... " (ESC for Rootstime.be)
Eric Schuurmans
Release: 17/01/2020
Album track list:
01. Flim Flam [R.W.Grigsby] - 02. Hello Stranger [R.H.Warren] - 03. So Much Trouble [H.Whittaker] - 04. Cut That Out [J.L.Williamson] - 05. Road Dog - 06. Play With Your Poodle [H.Whittaker] - 07. Breathtaking Blues [W.Hood] - 08. Crazy About You [W.M.Gillum] - 09. Pepper Mama [R.Lee MacCollum] - 10. Gillum's Windy Blues [W.M.Gillum] - 11. Rag Mama Rag [F.Allen] - 12. Good Gal [J.L.Williamson] - 13. Reefer Head Woman [J.L.Williamson] – 14. Five Long Years [E.Boyd] - 15. Say You Will - 16. Mean Old Frisco [A.W.Crudup] / Words/music © 2019 by: M. Hummel (5,15), unless otherwise [noted] - Produced by: Mark Hummel|
Album line-up:
Mark Hummel: vocs, harmonica / Joe Beard: vocs, guitar (14-16) / The Deep Basement Shakers: Aaron Hammerman: piano (1-13), vocs (11), Dave Eagle: washboard, percussion (1-13) / Bass: R.W. Grisby (1), Kid Andersen (2-7,10,12-16) / Guitar: Bill Flynn (2-4,6-10,12,13), Rusty Zinn (1) / Alex Pettersen: drums  (14)
Discography Mark Hummel (as bandleader, solo):
Wayback Machine, with Special Guests Joe Beard, Billy Flynn & The Deep Basement Shakers [2020 | Harpbreaker (all instrumental) (Electro-Fi) [2018] | Golden State Lone Star Blues Revue, w/ Little Charlie Baty, Anson Funderburgh (Electro-Fi) [2016] | The Hustle Is Really On, w/ Little Charlie Baty, Anson Funderburgh (Electro-Fi) [2014] | Blue And Lonesome: Tribute To Little Walter (Rockinitus) [2012] | Unplugged: Back Porch Music (Mountain Top Productions) [2011] | Retro–Active (Electro-Fi) [2010] | Odds & Ends (Rockinitus) - compilation of three albums: High Steppin', Up And Jumpin', Sunny Day Blues [200] | Ain't Easy No More (Electro-Fi) [2006] | Blowin' My Horn (Electro-Fi) [2004] | Golden State Blues (Electro-Fi) [2002] | Harmonica Party: Vintage Mark Hummel (Mountain Top Productions) [1999] | Low Down To Uptown (Tone-Cool/Rounder) [1998] | Heart Of Chicago (Tone-Cool/ Rounder) [1997] | Married To The Blues (Flying Fish) [1995] | Feel Like Rockin' (Flying Fish) [1994] | Hard Lovin' 1990s (Double Trouble) [1991] | Sunny Day Blues (Deluxe [Italy] Records) [1990] | Up And Jumpin', w/ Sue Foley, Charles Brown (Rockinitus) [1989] | Harmonica Party (Double Trouble) [1988] | High Steppin' (Double Trouble Records) [1987] | Playin' In Your Town, w/ Bill Kirchen, Brownie McGhee (Rockinitus Records) [1985] ] |