Albany Down is een Londense rock trio, dat in 2008 door frontman / zanger Paul Muir & gitarist Paul Turley opgericht werd. In 2011 debuteerden ze met 'South of the City', een album met duidelijke rock en ook wat blues en funk invloeden. In 2013 ontving de band een ISC-prijs en in 2016, won ze de UK Songwriting Competition in de categorie "Best Rock Song".
'The Outer Reach' (2016), mijn kennismaking met de band, was hun derde studio album (met Billy Dedman op bas en Donna Peters op drums), de opvolger van 'Not Over Yet' (2013). De opvolger 'Born In the Ashes' (2023) is opnieuw en vooral een rock album met 13 originele nummers. De opnames gebeurden (opnieuw) o.l.v. van Greg Haver (Manic Street Preachers, Super Furry Animals, INME), ditmaal in de legendarische Rockfield studio's in Monmouthshire (in Wales), waar Queen in 1975 'Bohemian Rhapsody' opnam. De band die voor de opnames in de studio stond bestond uit oprichter Paul Turley op zang en gitaren, drummer en achtergrondzanger Pete Hancock en bassist en achtergrondzanger Ben Atkins.
'Born in the Ashes' opent sterk met het aanstekelige "Always Wont What You Can't Have", wat een ode is een aan al het volk dat nooit voldaan zijn. Albany Down trapt meteen af met een stevig riff. Het is een song waarin Paul Turley als leider vooral als zanger en gitarist demonstreert, terwijl Hancock (drummer op dit album) en Atkins netjes het ritme opleggen. Met "Good News" stijgt met tempo verder. Het nummer, over de berichtgeving in de nieuwsmedia, sleurt je snel mee de negatieve spiraal die het tekstueel veroorzaakt. "Same Damn Thing", dat hier goed op aansluit, is door de input van de Uppercut Horns een radio-gevoelig nummer en "The Memory of What Uses to Be", dat daarna volgt is de eerste welgekomen rustpauze. Na "Reflections" volgt de titelsong die zwaar klinkt, maar nooit zwaar aanvoelt. De energieke reis gaat met "Darkest Day", "Kingdom of the Blind" en "Don't Look Back" al rockend verder zonder saai te worden. "I'll Come Running" lijkt even de "heavy" trend te willen breken, maar met "Your Days Are Numbered" en het wat sombere "This Heavy Soul" stijgt de druk opnieuw en lijkt het of de energie van de frontman nooit op geraakt. In de finale is er nog "Let Your Love Shine", waarna je van de stilte zal schrikken.
"With 'Born in the Ashes', Albany Down confirms its status as a unique, solid and idiosyncratic blues/rock band…" (ESC, Rootstime.be)
Eric Schuurmans
10 CD's te winnen!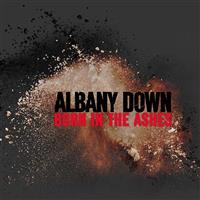 Wil je daar kans op maken, dan mail je ons gewoon even:
je naam, je adres en de vermelding: ALBANY DOWN
Binnen een aantal weken wordt uit alle inzendingen de gelukkigen getrokken.
Wij hopen dat u massaal Rootstime - hier - zult mailen
De winnaars worden per mail verwittigd.
'BORN IN THE ASHES': tracklist: 01. Always Wont What You Can't Have – 02. Good News – 03. Same Damn Thing – 04. The Memory of What Uses to Be – 05. Reflections – 06. Born in the Ashes – 07. Darkest Day – 08. Kingdom of the Blind – 09. Don't Look Back – 10. I'll Come Running – 11. Your Days Are Numbered – 12. This Heavy Soul – 13. Let Your Love Shine | Music/Lyrics: Greg Haver, or as [noted] | Producer: Greg Haver | Credits: Paul Turley: vocs, guitar / Pete Hancock: drums, bvs / Ben Atkins: bass, bvs
Discography ALBANY DOWN: Born in the Ashes [2023] | The Outer Reach [2016] | Not Over Yet [2013] | South of the City [2011] |