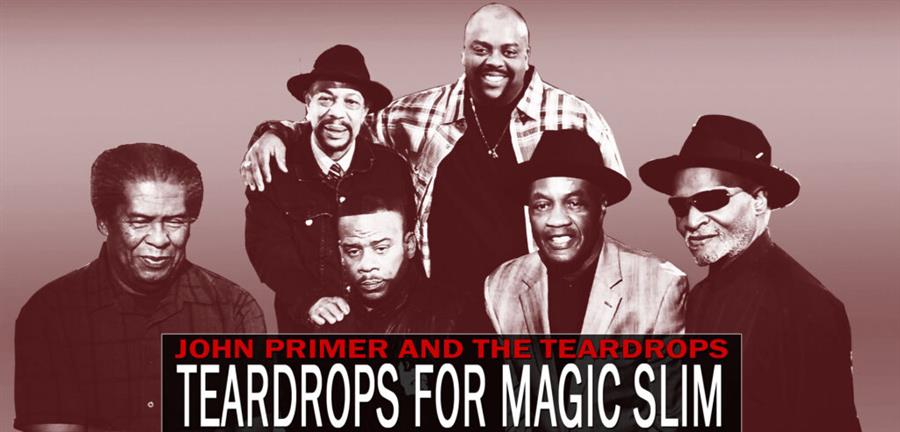 "The Maintainers, The Brotherhood, Chicago Blues All-Stars, Muddy Waters Band, Magic Slim & The Teardrops, Real Deal Blues Band… JOHN PRIMER is the common thread!..."
Zoals vele jonge knapen, zong Chicago blues zanger/gitarist John Primer (1945, Camden, MS) spirituals in het plaatselijke kerkkoor. Als hij negen was, leerde hij gitaar spelen en was hij niet weg te slaan van de lampenradio van zijn grootmoeder Laura Nell, waardoor hij de muziek van Jimmy Reed, Little Milton, BB en Albert King, leerde kennen. In 1963 verhuisde John naar Chicago. Hij richtte er in 1964 zijn eigen groep The Maintainers op. De "eigen" stijl van de groep was gebaseerd op ervaringen uit de Mississippi Delta en de Chicago West Side. In 1968 ruilde hij The Maintainers voor de soul en R&B band, The Brotherhood. Door Primer's vlekkeloos gitaarspel en zijn goede zangkwaliteiten, werd hij in 1974 gitarist van de huisgroep van Theresa's Lounge, een blues en roots club in Chicago. Primer speelde er van 1974 tot 1980. Hier ontmoette hij Chicago blues gitarist, de vroegere sideman van Muddy Waters, Sammy David Lawhorn (1935-1990), die hem muzikaal sterk beïnvloedde. Lawhorn speelde samen met Otis Spann, Willie Cobbs, Eddie Boyd, Roy Brown, Big Mama Thornton, John Lee Hooker, James Cotton en Junior Wells. Hij was het die Primer slide gitaar leerde spelen. In 1979 vervoegde Primer de Chicago Blues All-Stars van Willie Dixon. Daarna, tot in 1983, werd hij leider van de Muddy Waters band en nog later vervoegde hij, met de "blues brothers" Nick & Morris Holt, Magic Slim & The Teardrops. Uiteindelijk ging hij solo bij Wolf Records. In 2013 en 2014 werd Primer genomineerd voor een Blues Music Award in de categorie "Traditional Blues Male Artist".
John Primer is qua stijl beïnvloed door Junior Wells, Buddy Guy, James Cotton, Howlin' Wolf, Elmore James (en ga zo nog maar even door, want er zijn er nog…). Hij nam van alle legendes een deel van hun speeltechnieken over, om hieruit zijn eigen "straight forward lump" stijl -ook "Primer Lump" of "Teardrop Lump" genoemd- wat vrij vertaald: "rechttoe rechtaan homp / bonk" heet, te ontwikkelen. Deze stijl is gekenmerkt door het "lump da lump" ritme, omdat de baslijn het ritme en de beat bepalen en daarom met één slag / één bons gespeeld wordt. John Primer is een van de éérste gitaristen die op één gitaar het ritme, de baslijn én de lead is gaan spelen.  
Het was door de pandemie even wachten op 'Hard Times' (2022), de opvolger van 'The Gypsy Woman' (2020). Met producer Rick Barnes nam John Primer het album in de Rax Trax Studio in Chicago op met zijn Real Deal Blues Band. Dit deden ze met Steve Bell op harmonica, David Forte op bas, Lenny Media op drums én enkele "Special Guests": Rick Kreher op ritme gitaar, toetsenist Johnny Iguana op piano en orgel en orgel en Primer's 17-jarige dochter Aliya, die voor haar studio debuut op één nummer zingt.
"John wants the younger generation to listen to Magic Slim & The Teardrops and to realize where the music came from…"
Een jaar later is er het live / tribute album 'Teardrops for Magic Slim – Live @ Rosa's Lounge'. Morris Holt (1937-2013) aka Magic Slim was een gigant in de blues wereld!
Slim moest stoppen met pianospelen toen hij zijn pink verloor bij een ongeluk tijdens het verwerken van katoen. Hij verhuisde eerst naar het nabijgelegen Grenada en kwam voor het eerst naar Chicago in 1955, met zijn vriend en mentor Samuel Gene Maghet (1937-1969), beter bekend als Magic Sam. De (6 maanden) oudere Magic Sam liet de jongere Morris Holt bas spelen met zijn band en gaf hem zijn bijnaam, Magic Slim. Slim keerde ontgoocheld terug naar Mississippi om te werken en kreeg zijn jongere broer Nick geïnteresseerd in het spelen van bas. In 1965 was hij terug in Chicago en in 1970 voegde Nick zich bij hem in zijn band, The Teardrops. In 1983 sloot John Primer zich aan bij The Teardrops en speelde 13 jaar met de groep.
Dit eerbetoon, tien jaar na zijn dood, is een geschenk aan Magic Slim voor alles wat hij deed voor John en The Teardrops! De Teardrops op 26/11/22 in Rosa's Lounge in Chicago, waren naast John Primer: Jon McDonald op 2e gitaar, Earl Howell en Lenny Media op drums en Danny O'Connor op bas. Slims' zoon Shawn Holt is te horen op twee nummers.
Met JB Lenoir's "Mama Talk to Your Daughther" opent Primer het album enthousiast met een uptempo shuffle, een klassiek Slim deuntje. Primer doet de leadzang en leidt de band op gitaar strak. "Luv Sumbody" van Jimmy Dawkins drijft op een relaxte groove, terwijl de gitaar de dans leidt. Jimmy McCracklin's "Every Night, Every Day" is een goed gebrachte blues à la lettre en "Ain't Doing too Bad" al de volgende shuffle met geweldige gitaar en nog meer solide zang. Op "Buddy Buddy Friend" voel je de signature Magic Slim-groove en "Trouble of My Own", een slow blues die Slim zelf schreef, is deep down en erg cool. De lange instrumentale intro is erg knap en als de zang begint, voel je pas echt de emoties. Heel geslaagd! Op de volgende twee klassiekers is het de beurt aan Shawn Holt. Slim's zoon speelt gitaar en zingt op Willie Dixon's shuffle "Let Me Love You Baby" en Elmore James' "It Hurts Me Too". Holt zingt en speelt met passie en zoekt contact met het publiek. Knap is het langzame gedeelte in het eerste nummer en de uptempo finale. Elmore James' "Look Over Yonder Wall" is het volgende nummer op de playlist. Primer doet de zang zoals zijn voormalige bandgenoot dat deed. "The Things I Used to Do" van Eddie Jones is een uitstekende klassieke langzame blues en op "Before You Accuse Me" schittert Primer's gitaar. Het optreden eindigt met Milton Campbell's klassieker, "The Blues Is Alright". De finale is een laatste eerbetoon aan alle blues "giants", een nummer dat Magic Slim vaak speelde voor zijn vele fans.
"John Primer's 'Teardrops for Magic Slim: Live @ Rosa's Lounge' is an exceptional tribute to his old mentor and a "must have" for all real blues lovers…" (ESC, Rootstime.be)
Eric Schuurmans
10 CD's te winnen!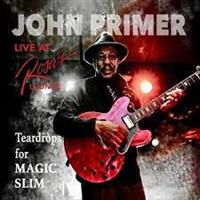 Wil je daar kans op maken, dan mail je ons gewoon even:
je naam, je adres en de vermelding: JOHN PRIMER
Binnen een aantal weken wordt uit alle inzendingen de gelukkigen getrokken.
Wij hopen dat u massaal Rootstime - hier - zult mailen
De winnaars worden per mail verwittigd.
'TEARDROPS FOR MAGIC SLIM': tracklist: 01. Mama Talk to Your Daughther [JB Lenoir] – 02. Luv Sumbody [Jimmy Dawkins] – 03. Every Night, Every Day [Jimmy McCracklin] – 04. Ain't Doing too Bad [D. Malone] – 05. Buddy Buddy Friend [Aaron Corthen] – 06. Trouble of My Own – 07. Let Me Love You Baby [Willie Dixon] – 08. It Hurts Me Too [Elmore James] – 09. Look Over Yonder Wall [Elmore James] – 10. The Things I Used to Do [Eddie Jones] – 11. Before You Accuse Me [Ellas McDaniel] – 12. The Blues Is Alright [Milton Campbell] | Music/Lyrics: Morris Holt (6), or as [noted] | Producer/ Lisa Primer | Credits: John Primer: vocs, guitar & The Teardrops: John McDonald: 2nd guitar / Earl Howell: drums / Danny "Smoke" O'Connor: bass / Lenny Media: drums & Special Guest: Shawn "Lil Slim" Holt: guitar & vocals (7,8)
Discography JOHN PRIMER (& THE REAL DEAL BLUES BAND* / THE TEARDROPS**): Teardrops for Magic Slim** -  Live @ Rosa's Lounge [2023] | Hard Times* [2022] | The Gypsy Woman, w/Bob Corritore [2020] | The Soul of a Blues Man*, w/special guest Billy Flynn [2019] | Ain't Nothing You Can Do, w/Bob Corritore [2017] | That Will Never Do* [2016] | Classisc Chicago Bles, Live & Unreleased, feat. Bonnie Lee, Nick Holt, Earl Howell & John Primer [2016] | You Can Make It If You Try** [2014] | Knockin' Around These Blues, w/Bob Corritore [2013] | Blues On Solid Ground [2012] | Call Me John Primer [2011] | Let's Live It Up [2010] | It's a Blues Life* [2009] | All Original [2008] | Blue Steel: A Tribute to Elmore James [2003] | It's a Blues Life [2000] | Knockin' at Your Door [1999] | Easy Baby: Zoo Bar Collection, Vol. 6* [1999] | Blues Behind Closed Doors [1998] | Keep On Lovin' the Blues [1997] | Cold Blooded Blues Man [1997] | The Real Deal [1995] | Stuff You Got to Watch [1993] | Poor Man Blues: Chicago Blues Session, Vol. 6 (w/Magic Slim & Billy Branch) [1991] |