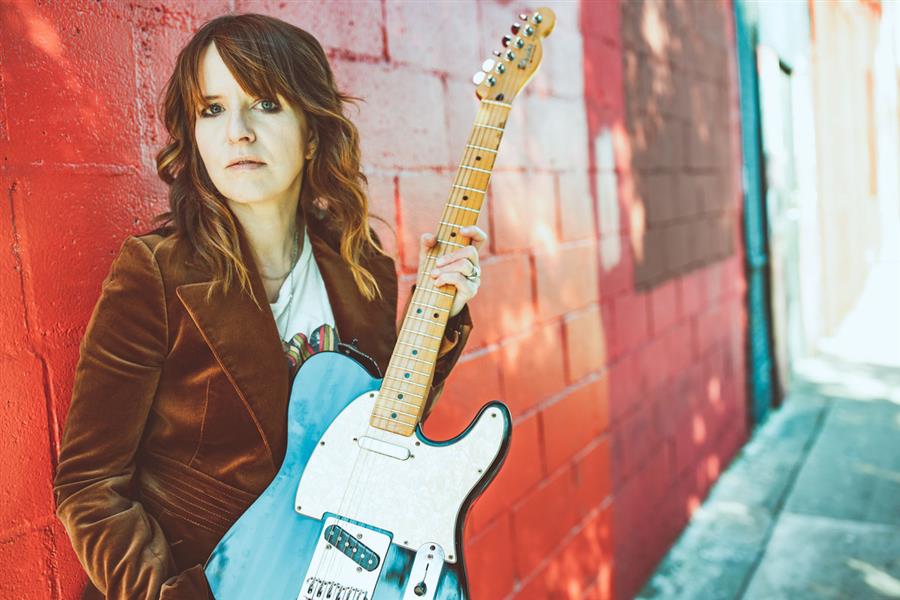 " Americana singer-songwriter and guitar player, deeply in love with soul music… "
Nikki O'Neill, een singer-songwriter/gitariste, trok de studio in voor de opnames van 'World is Waiting', het vervolgalbum op haar 2018-EP 'Love Will Lead You Home'. Eerder dat jaar bracht ze ook al de single "When Do I Tell Him" uit, die behoorlijk wat radiozendtijd kreeg op de Americana/Blues stations. Nikki treedt solo akoestisch en met band op.
"I'm an Americana singer-songwriter and guitar player, who's really into soul music, rhythm & blues and gospel. I was born in Los Angeles and live there now, but I grew up in Sweden with my mother and grandmother, who both came from Poland…".
Nikki heeft Europese roots, maar zit met haar muziek diep in Amerika geworteld. Als gitariste is haar stijl geïnspireerd door soul icoon Pops Staples, maar ook Prince, evenals Carlos Santana beïnvloedden haar. Qua zang is ze favoriet van Aretha Franklin, Dinah Washington en Mavis Staples. Mijn songwriting, zo zegt ze zelf "is altijd geïnspireerd geweest door soul, gospel, rock, kleurrijke harmonieën en geweldige melodieën. Mijn favoriete schrijvers zijn o.a. Jerry Ragovoy, Dan Penn, Paul McCartney, Carole King, Sly Stone, Burt Bacharach en zelfs ABBA's Bjorn en Benny... Hey, Ik ben tenslotte in Zweden opgegroeid!..."
Ze schrijft haar songs met haar muzikale partner Paul Menser. Ze werken al samen sinds haar soloalbum 'Love Will Lead You Home' uit 2017 en de singles "When Do I Tell Him" en "Where Luck Can Find Me" uit 2018. Ze schreven ondertussen ook vijf nummers voor het nieuwe album 'World is Waiting', dat deze maand uitkomt.  Ze nam de nummers op met leden van haar band: Joshua Pessar (gitaar, zang), Rob Fresco (bas, zang) en drummer Rich Lackowski.
Haar nieuwe (vrij korte: 7#, 26') album 'World is Waiting' opent uptempo met het poppy rocknummer "That's How You Lose Her", dat haar (soms beperkt) hoge zangbereik etaleert. "A Man For All Seasons" , een rustig countryachtig nummer,is een van de twee nummers die ze alleen schreef. "A Place at the Table" is een mooie ballade, die haar qua zang op het lijf geschreven lijkt. In de titelsong en "Alll I Wanna Be Is Yours" (een nummer waar Lackowski aan meeschreef) klinkt ze hoopvol, in "You're the Only One Who Gets Me" knipoogt ze even naar Tony Joe White en in "Take Back What I Said", de afsluiter is Nikki nog even emotioneel en soulvol.
Nikki O'Neill is een onopvallende dame, die op 'World is Waiting' wat aandacht vraagt. Met haar eigen songs en muzikale escapades verdient ze die heus wel!
" Nikki O'Neill is an discrete lady who, on her new release 'World is Waiting' demands some attention. With her own songs and nice musical escapades Nikki really deserves them!... " (ESC for Rootstime.be)
Eric Schuurmans
10 cd's te winnen!
Wil je daar kans op maken, dan mail je ons gewoon even:
je naam, je adres en de vermelding: NIKKI O'NEILL
Binnen een aantal weken wordt uit alle inzendingen de gelukkigen getrokken.
Wij hopen dat u massaal Rootstime - hier - zult mailen
De winnaars worden per mail verwittigd.
Album track list: 01. That's How You Lose Her – 02. A Man for All Seasons – 03. A Place at the Table – 04. World is Waiting – 05. All I Wanna Be Is Yours – 06. You're the Only One Who Gets Me – 07. Take Back What I Said / All songs written by: Nikki O'Neill (2,6) & Paul Menser, Bob Garrett (4), Rich Lackowski (5) © 2020 - Produced by: Nikki O'Neill & Joshua "Cartier" Cutsinger | Album credits: Nikki Neill: lead vocs, lead guitar (4), rhyth & a- guitar, b-vocs, handclaps / Joshua Pessar: lead guitar (1), slide guitar (2), rhythm guitar, handclaps / Rob Fresco: e- bass / Rich Lackowski: drums, percussion, handclaps / Doug Organ: piano, Wurlitzer, Hammond organ / Jon Gold: Hammond organ (1) / Halina Janusz, Lisa Malsberger, Manda Mosher, Deb Morrison-Littell: b-vocs / Joshua "Cartier" Cutsinger: handclaps
Discography NIKKI O'NEILL: World is Waiting [2020] | When Do I Tell Him (single) [2018] | Where Luck Can Find Me single) [2018] | Love Will Lead You Home (EP) [2018] | The Nikki O'Neill Band [2012] |