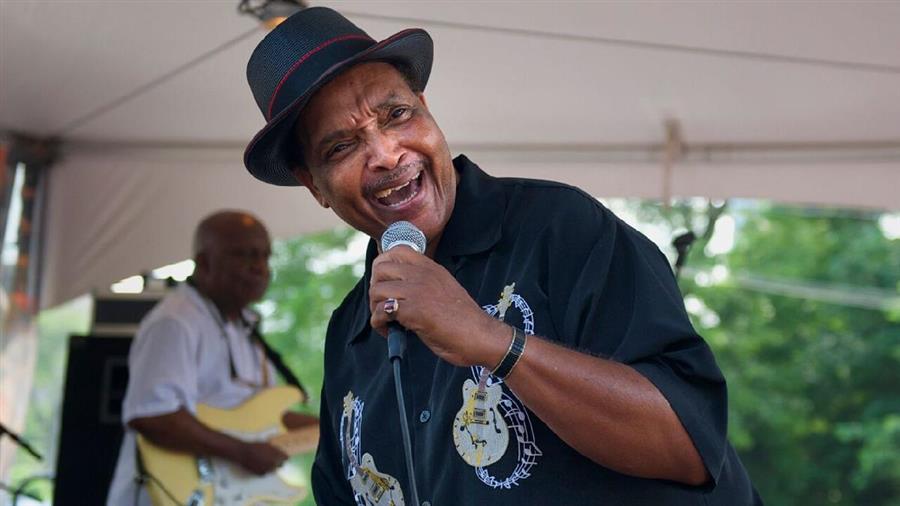 " Johnny Rawls is bringing his signature brand of soul blues on a new album… "
Ook in muziek bestaan er enkele onweerlegbare zekerheden. Als je spreekt over de onweerstaanbare ouderwetse soul/blues man, singer-songwriter & gitarist & Blues Music Awards winnaar & producer/arrangeur dan kom je uit bij de nu bijna zeventiger "Ace of Spades", "the Spadille" Johnny Rawls. Ooit werd de term "soul blues" -de bekende mix van r&b, afgekruid met wat gospel- uitgevonden om Rawls' muziek te beschrijven. Beïnvloed door de soul uit de jaren '60 en na samengewerkt te hebben met O. V. Wright (1939-1980), James Carr (1942-2001) en Z. Z. Hill (1935-1984), is Rawls steeds de moderne soul man gebleven. Rawls bracht meer dan al zo'n 20 studio albums uit en werd in zijn carrière ondertussen al meer dan tien keren genomineerd voor een Blues Music Award.
Rawls is geboren in Hattiesburg, Mississippi. Zijn blinde grootvader leerde hem de basis van gitaar spelen en op de middelbare school speelde hij ook sax en klarinet. Midden jaren '70 was Rawls lid van de backing band van dé Souther soul man O.V. Wright (hij stierf al op zijn 41ste) en werd hij zijn muziek manager. Ze werkten samen tot aan zijn dood. Hierna veranderde voor de volgende dertien jaren de naam van de band in Ace of Spades Band. Ze werkten zo samen met o.a. B.B. King, Little Milton, Bobby Bland, Little Johnny Taylor en Blues Boy Willie. In de band speelde ook L.C. Luckett (gitaar), met wie Rawls de albums 'Can't Sleep At Night' (1994) en 'Down to Earth' (1995) onder de naam Rawls & Luckett uitbracht. In 1996 debuteerde Rawls solo bij het JSP Records label (John Stedman Promotions) met 'Here We Go' (1996). Rawls werkte als producer/arrangeur voor JSP. Verdere JSP releases zijn 'Louisiana Woman' (1997), 'My Turn to Win' (1999) en 'Put Your Trust in Me' (2001)
Rawls richtte zelf zijn eigen Deep South Soul label op, maar bracht ook in 2005 bij Catfood Records het album 'No Boundaries' uit. Zijn 2006-album 'Heart & Soul' werd genomineerd met een Blues Music Award als "Best Soul Blues Album of the Year" en hij zelf werd genomineerd in de West Coast Blues Hall of Fame als "Best Vocalist". Rawls kreeg net als Little Milton en Tyrone Davis in Hattiesburg een Blues Trail Marker (een markeerpaal langs de Mississippi Blues route). Zijn 2009-album 'Ace of Spades', een tribute aan zijn mentor O. V. Wright, was zijn eerste album dat een Blues Music Award als "Best Soul Blues Album of the Year" kreeg. 'Memphis Still Got Soul' (2011) werd in 2012 genomeerd als "Blues Music Award Soul Album of the Year", de titel song als "Song of the Year" en Rawls zelf, als "Male Soul Artist of the Year". Op zijn album 'Remembering O.V.' was Otis Clay "special guest". Het album werd in 2014 genomeerd als "Soul Album of the Year" en Rawls opnieuw als "Male Soul Artist of the Year" (zijn 11de en 12de Blues Music Awards nominaties!).
'I'm Still Around' (2018) (de opvolger van 'Waiting for the Train', 2017 en 'Tiger in A Cage' (2016) en 'I Miss Otis Clay (2019), werden uitgebracht bij Third Street Cigar Records. Ook zijn nieuwe 'Where Have All the Soul Men Gone' werd uitgegeven in de 20N, 3rd St, Waterville, Ohio.
In de Heyman Studios in Kopenhagen nam Rawls aanvang dit jaar met de voltallige Özdemir familie (Kenan: gitaar, Levent: drums a papa Erkan: bas) tien nieuwe originele nummers op. Het toetsenwerk werd gedaan door Alberto Marsico, de gitaarsolo's (in "Money" en "Town too Small") door Larry "Entertainment" Gold en geblazen werd er door The Watervolle Horns: Travis Geiman: trombone & Mike Williams: altsax.
Met de titelsong gaat de deur open. "Where Have the Soul Men Gone" is niet alleen een open vraag, maar ook, ingeleid met veel toeters en geblaas, een relaxt soulnummer. "Bottom to the Top" werd live opgenomen en sluit hier netjes op aan. "Keep On Doing My Thing" is het eerste sfeernummer, een typische Rawls' smaakmaker, "Love, Love, Love" een rustige ballade en "Money" nog meer top soul. Doof de lichten even voor "Time" en blijf dan nog even op de dansvloer voor "Baby, Baby, Baby" want na "Calling On Jesus" gaan de gordijnen dicht. Deze gospel, ingeleid door Alberto Marsico, is de perfecte meezinger, die je niet missen mag.
Voor zij die nog niet weten hoe Johnny Rawls' signature mix van r&b en wat gospel klinkt, is er zijn nieuwe album 'Where Have All the Blues Men Gone'.  Het klinkt heel herkenbaar, maar ook zo aanstekelig dat meeswingen en luid meezingen moet.
" Johnny Rawls' new release 'Where Have All the Blues Men Gone' sounds very recognizable, but also so infectious, that swing along and Halleluhah, sing along loudly must... " (ESC for Rootstime.be)
Eric Schuurmans
10 cd's te winnen!
Wil je daar kans op maken, dan mail je ons gewoon even:
je naam, je adres en de vermelding:JOHNNY RAWLS
Binnen een aantal weken wordt uit alle inzendingen de gelukkigen getrokken.
Wij hopen dat u massaal Rootstime - hier - zult mailen
De winnaars worden per mail verwittigd.
Album track list: 01. Where Have the Soul Men Gone – 02. Bottom To The Top (Live) – 03. Can't Leave It Alone – 04. Keep On Doing My Thing – 05. Love, Love, Love – 06. Money – 07. Town Too Small – 08. Time – 09. Baby, Baby, Baby – 10. Calling On Jesus / All songs written by: Johny Rawls © 2020 - Produced by: Johny Rawls | Album credits: Johnny Rawls: vocs, rhythm guitar, keys / Alberto Marsico: keys, vocs / Kenan Özdemir: guitar, vocas / Levent Özdemir: drums, vocs / Erkan Özdemir: bass / Larry "Entertainment" Gold: guitar solos (6,7) & The Watervolle Horns: Travis Geiman: trombone – Mike Williams: alto sax
Discography JOHNNY RAWLS: Where Have All the Soul Men Gone [2020] | I Miss Otis Clay [2019] | I'l Still Around [2018] | Waiting For the Train [2017] | Tiger In a Cage [2016] | Soul Brothers  [2014] | Remembering O.V. w/ special guest Otis Clay [2013] | Soul Survivor [2012] | Memphis Still Got Soul [2011] | Ace Of Spades [2010] | Red Cadillac [2009] | Heart & Soul [2007] | No Boundaries [2005] | Live in Montana [2004] | Get Up & Go JSP (compilation album) [2002] | Lucky Man [2002] | Put Your Trust in Me [2001] | My Turn to Win [1999] | Louisiana Woman [1997] | Here We Go [1996] | Down to Earth, by Rawls & Luckett [1995] | Can't Sleep At Night, by Rawls & Luckett [1994]