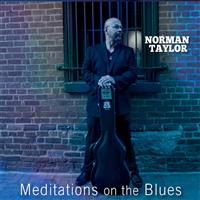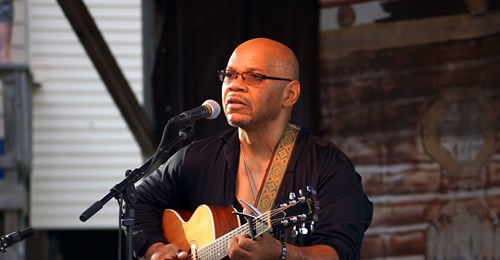 " Acoustic blues at its best… "
Bezige bij Norman Taylor uit de regio South Jersey, Philadelphia, is een singer-songwriter/akoestische bluesgitarist, part time activist en gevechtsinstructeur. Ondanks zijn stijl verankerd is in de countryblues van mensen als Robert Johnson en Skip James, is hij evenzeer beïnvloed door hedendaagse akoestische blues mannen als Keb Mo, Eric Bibb en Guy Davis. Ook invloeden uit country, 70's rock, soul, gospel en een verscheidenheid aan andere muzikale vormen vindt je in Norman's muziek. Norman's 'Blue Soul' (Soul Stew Records) werd in 2014 genomineerd als "Best Acoustic Album".
Als opvolger van 'Sing Your Blues Live Your Light' (2018) verscheen eerder dit jaar Norman Taylor's nieuwe studio album, 'Meditations on the Blues'. Het is een album met zeven originals en drie covers en, met enkel Norman's aparte fiere stem, gitaar en soms wat extra zang, harmonica, piano of mandoline. In de studio was Eric Selby opnieuw de producer. Hoe prachtig Taylor klinkt, hoor je al in de opener "The Path" en in Nina Simone's hartverscheurende "I Wish I Knew How It Would Feel to Be Free", waarin de gitaar wat meer de hoofdrol krijgt. Daarnaast voegt ook de zang van Laura Cheadle heel wat "extra" emoties toe. "Bridge of Pain" en nog meer "No Liberty" (met zang van Michele Peraino) zijn qua gevoelens een dieptepunt, terwijl "Mel's Two Step" (met Mel Roberts op harmonica) en wat verder "Making It Better" wat meer vrolijkheid bieden. Speciale aandacht verdienen ook de twee overige covers die op 'Meditations on the Blues' staan. Een hoogtepunt is de poppy hit van Tom Petty (& Jeff Lynne) "I Won't Back Down", uit Tom Petty's debuutalbum 'Full Moon Fever' (1989). De derde cover is "Acros 110th Street" van Bobby Womack. Het is een nummer uit de soundtrack van de gelijknamige film met Anthony Quinn en Yaphet Kotto, hier met Steven Goldstein op akoestische lead-gitaar en TJ Fry op mandoline. Norman's uitgeklede versies zijn heel intens en emotioneel. Je voelt opnieuw de boodschap die er oorspronkelijke in de nummers lag, maar die juist doordat je het nummer zo goed kent bent kwijtgeraakt. Ook heel sterk is Norman op gitaar in "Sing Your Blues Live Your Light". In de afsluiter "I've Been Thinking About" speelt James Cheadle op piano.
'Meditations on the Blues' van Norman Taylor is, zoals de titel het verraadt, een album waarin alle liefhebbers van akoestische blues zich vinden kunnen, maar dat ook aan velen heel wat geestelijke bevrijding zal bieden. Samengevat, een uitstekende akoestische blues album dat tot nadenken en mediteren zet.
" Norman Taylor's 'Meditations on the Blues is, as the title betrays, an album in which all lovers of acoustic blues can find themselves, but which will also offer a lot of spiritual liberation to many. In summary, an excellent acoustic blues album that makes you feel good and meditate... " (ESC for Rootstime.be)
Eric Schuurmans
10 cd's te winnen!
Wil je daar kans op maken, dan mail je ons gewoon even:
je naam, je adres en de vermelding: NORMAN TAYLOR
Binnen een aantal weken wordt uit alle inzendingen de gelukkigen getrokken.
Wij hopen dat u massaal Rootstime - hier - zult mailen
De winnaars worden per mail verwittigd.
Album track list: 01. The Path – 02. I Wish I Knew How It Would Feel to Be Free [Billy Taylor, Dick Dallas > Nina Simone, 'Silk & Soul', 1967] – 03. Bridge of Pain – 04. No Liberty – 05. Mel's Two Step – 06. I Won't Back Down [Tom Petty, Jeff Lynne] – 07. Making It Better – 08. Across 110th Street [Bobby Womack] – 09. Sing Your Blues Live Your Light – 10. I've Been Thinking About / Words/music © 2020 by: Norman Taylor, or as [noted: 2,6,8] - Produced by: Eric Selby - Album line-up: Norman Taylor: vocs, a-, e- bariton  & slide guitar / Laura Cheadle: vocs (2) / Michele Peraino: vocs (4) / Mel Roberts: harmonica (5) / Steven Goldstein: a- guitar (8) / TJ Fry: mandoline (8) / James Cheadle: piano (10)
Discography Norman Taylor: Meditations on the Blues [2020] | Sing Your Blues Live Your Light [2018] | Delaware to Delta [2016] | Blue Soul [2014] |