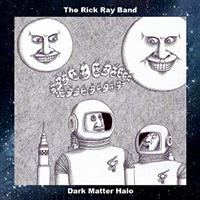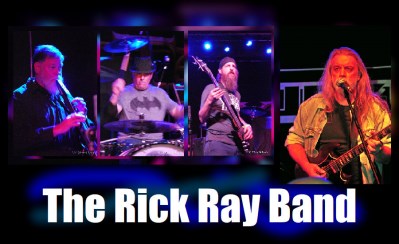 " To give people the Vertical Hair Factor and make jaws drop... "
The Rick Ray Band (RRB) noemt zichzelf een "psychedelische progressieve Hard Rock Fusion band". Rick Ray wou ook gitaar spelen na het zien van The Beatles op de Ed Sullivan Show in '64. Hij kreeg zijn eerste gitaar in '66 toen hij net zes was. In '73 richtte hij de band Neurotic op, waarin hij speelde tot 1985. Daarna vormde hij The Rick Ray Band (versie 1) op, die doorging tot 1989 en, in 1990 richtte hij de band Riot Act op, die tot 2000 duurde. In 2000 hervormde Rick The Rick Ray Band (versie 2) en neemt sindsdien met hen nog steeds albums op.
Vanaf 2017 brachten ze al 33 albums uit, sommige zijn solo, sommige zijn met bands (The Rick Ray Band, Riot Act en Neurotic). "Ze" zijn Rick, Sarge, Shaggy & Kip, of te wel: Rick Ray (zang, gitaar, keys), Rick "Sarge" Schultz (sax, basklarinet), Dave "Shaggy" Snodgrass (bas, zang) & Kip Volans (drums, percussie). De Rick Ray Band opende al voor o.a. harde, psychedelische en alternatieve rockbands, waarvan Lynyrd Skynyrd, Blue Oyster Cult, Kansas en Pat Travers de gekendste zijn.
" Fasten your seat belts and enjoy the ride… "
The Rick Ray Band streeft ernaar om bij mensen "de haren te berge doen rijzen" én "hun mond open te laten vallen". Op de tien originele nummers buigen, weven, trekken en draaien instrumenten zich krom in caleidoscopische patronen om elkaar heen. De teksten, hoewel hoorbaar, zijn niet gemakkelijk te begrijpen. Maakt niet uit, doe uw veiligheidsgordels om en geniet van de RRB-rit.
Hoogtepunten onder de reis zijn voor mij de meer melodieuze nummers als "Society of Strangers", "Into the Past", "Do You Know Who You Are" en "Autumn Wind". Het meest verrassende en poëtische is zeker "Elektroshock", dat na de intro aanvoelt als een statische lading, waarbij de geplukte noten als spanningen ontladen, ploffen en in de oren blijven branden. Je mag echter niet de opener en nummers als "As the Room Went Dark" (waarvoor Russell Vidrick de tekst schreef) en "Abandoned Morality" opzijschuiven, want deze zullen zeker de liefhebbers van de hardere rock genres plezieren. De afsluiter "48 Hour Day" staat garant voor een grootse explosieve finale, waarbij de vier van RRB er nog eens lekker hard en voluit voor gaan.
Muziekliefhebbers zoek op 'Dark Matter Halo' niet achter traditionele, wat méér "gelaten" of bluesy dingen, want dit is waar het hier niet om gaat. The Rick Ray Band is rockband, een sfeermaker, met tot nadenken stemmende teksten. Niettemin, voor al de anderen 'Dark Matter Halo' van The Rick Ray Band perfect!
" The Rick Ray Band is a rock band, a mood maker, with thought-provoking lyrics. Not really something for roots lovers, nevertheless, for all the others is 'Dark Matter Halo' PERFECT!... " (ESC for Rootstime.be)
Eric Schuurmans
10 cd's te winnen!
Wil je daar kans op maken, dan mail je ons gewoon even:
je naam, je adres en de vermelding: THE RICK RAY BAND 
Binnen een aantal weken wordt uit alle inzendingen de gelukkigen getrokken.
Wij hopen dat u massaal Rootstime - hier - zult mailen
De winnaars worden per mail verwittigd.
Album track list:
01. Dark Matter Halo - 02. Society of Strangers - 03. Do You Know Who You Are - 04. Into the Past - 05. On the Take - 06. As the Room Went Dark [Lyrics: Russell Vidrick] - 07. Elektroshock - 08. Autumn Wind - 09. Abandoned Morality - 10. 48 Hour Day / Words/music © 2020 by: Ray, Schultz, Snodgrass & Volans and, as [noted: 6]
Album line-up:
Rick Ray: vocs, guitar, keys / Rick "Sarge" Schultz: sax, bass clarinet / Dave "Shaggy" Snodgrass: bass, vocs / Kip Volans: drums, percussion
Discography The Rick Ray Band:
Available from Neurosis Records are: 1.Abnormal Road (1999) / 2.Balance Of Power (1999) / 3.The Great Antagonist (1999)  / 4.Atomic Soldiers (1999) / 5.Clone Man (1999) / 6.Neurotic Tendencies (1999) / 7.You People (1999) / 8.Looking Into The Past (1999) / 9.The Key To The Bottomless Pit (1999) / 10.Cast Into Our Dimension (2000) / 11.Live At Suma (2000) / 12.Maniacal Disastrophe Tour (2000) / 13.Approach With Extreme Caution (2000) / 14.Living In An Insane World (2000) / 15.Mind Control Inc. (2000) / 16.A Summary Of The Works Of Rick Ray (2000) / 17.Guitarsenal (2000) / 18.Manipulated DNA (2001) / 19.Insanity Flies (2001) / 20.Existing Passages (2002) / 21.The Guitarsonist (2002) / 22.Into The Hands Of Sinners (2003) / 23.Out Of The Mist Of Obscurity (2003) / 24.Night Of The Living Dedicated (2004) / 25.Chainsaw Manicure (2004) / 26.Just Jammin' (2004) / 27.Mazy Craniacs (2005) / 28.Temporary World (2005) / 29.Nothing To Lose (2007) / 30. Violence Marred by Peace (2008) / 31. The Setlist (2009) / 32. Can't Lie Hard Enough (2011) / 33. Killing Time (2017) / 34. Dark Matter Halo (2019)