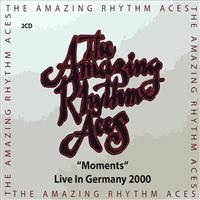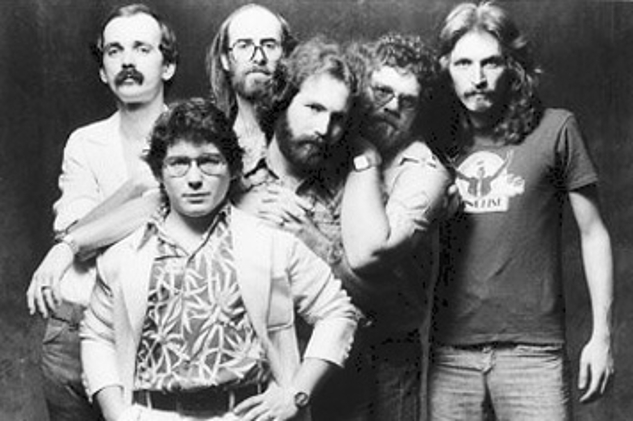 " A well-oiled Southern Country & Roots rock machine… "
The Amazing Rhythm Aces is een Amerikaanse countryrock band. In 1972 in Memphis kwamen basgitarist Jeff "Stick" Davis (ex-Burrito Deluxe, John Mayall) en drummer Butch McDade samen met zanger/tekstschrijver Jesse Winchester. Als de Aces maakten ze samen opnames en tourden ze. Jesse Winchester werd vervangen door Russell Smith (zang/gitaar) en Billy Earhart III (keys), Barry Burton (steel gitaar) en James Hooker (piano) werden aangetrokken om "een mix te ontwikkelen van pop, country en blue-eyed soul".
In 1975 kwam hun debuutalbum 'Stacked Deck' uit, wat hen twee hits opleverde: "Third Rate Romance" en "Amazing Grace (Used to Be Her Favorite Song)". In 1976 won het nummer "The End Is Not in Sight (The Cowboy Tune)" (van het album 'Too Stuffed to Jump') een Grammy Award voor "Country Zangprestatie door een Groep". Nadat in 1977 'Toucan Do It Too' uitkwam, verliet Barry Burton de groep en werd hij vervangen door Duncan Cameron. In 1978 kwam hun album 'Burning the Ballroom Down' uit en het jaar daarop kwam (bij een andere platenmaatschappij) 'The Amazing Rhythm Aces' uit waaraan ook Joan Baez, Tracy Nelson en de Muscle Shoals Horns meewerkten. Beide albums kregen goede kritieken, maar de verkoop was slecht. Voordat ze uit elkaar gingen en ze voor individuele projecten kozen, brachten ze in 1980 nog (snel) 'How the Hell Do You Spell Rhythum?' uit.
Russell Smith werd een succesvol tekstschrijver en bracht in 1978 zijn eerste soloalbum uit, simpelweg getiteld 'Russell Smith'. In 1988 tekende hij bij Epic Records en op dat label werd in 1989 het album 'This Little Town' uitgebracht. In 1993 werd Smith de leadzanger van de bluegrass groep Run C&W. Na het einde van de Amazing Rhythm Aces ging Billy Earhart III met de Bama Band van Hank Williams jr. spelen en Duncan Cameron met de countryband Sawyer Brown. James Hooker ging in 1987 naar Nanci Griffith en is nog de enig overgeblevene van The Blue Moon Orchestra. In 1994 kwam de band weer bij elkaar, alleen kwam Danny Parks (gitaar en mandoline) in de plaats voor Duncan Cameron. Ze kwamen met een nieuwe vertolking van hun grootste hits "Ride Again". De dood van Butch McDade (in 1998 t.g.v. kanker) vertraagde de uitgifte van hun comeback-album 'Chock Full of Country Goodness', dat er halverwege 1999 kwam.
Nadat Russell Smith in juli 2019 op 70-jarige overleed leeftijd aan kanker, kondigde Billy Earheart III, het "hoofd" van de Amazing Rhythm Aces, het definitieve einde van de band aan. Radio Bremen nam 20 jaar geleden, in maart 2000 tijdens een Europese tour van de ARA met optredens in Duitsland, Zwitserland en Nederland, in Bremen 'Moments' – Live in Germany' op. Het dubbele live album werd in maart opgenomen met Russell Smith (gitaar, zang), Billy Earheart III (piano, Hammond orgel), Jeff "Stick" Davis (bas), drummer Bryan Owings (ex-Burrito Deluxe) en zanger/gitarist Fred James (ex-The Burritos, Flying Burrito Brothers).
Op twee cd's en 111 minuten staan 25 nummers, die zelfs 20 jaar later er nog steeds verbazingwekkend fris uitzien en perfect passen in de huidige Americana / Roots-evenementen. Hun grote hits ("The End is Not in Sight (The Cowboy Song)", The "Ella B", "Third Rate Romance" en "Amazing Grace (Used to Be Her Favourite Song"), aangevuld met blanke Memphis Soul ("Typical American Boy"), ballades ("Dancing the Night Away") en nieuwere nummers ("Out of the Blue", One Love", "Love's on the Way") ontbraken uiteraard niet!
De Amazing Rhythm Aces zijn altijd en op de een of andere manier in hun genre, hun tijd vooruit geweest. Russell Smith (1950-20 en Butch McDade (1946-1998) konden helaas niet getuige zijn van deze uitstekende release,  maar hebben jaren aan deze voortreffelijke band bijgedragen. Samen hebben ze (ik citeer uit de notes van het ARA-album) "de traditie van muziek uit Memphis over de hele wereld meegebracht. Die avond in Bremen: eerlijk, expressief, emotioneel en opzwepend! Een eervol en ook ietwat weemoedig afscheid…
" 'Moments – Live in Germany 2000' bij the Aamazing Rhythm Aces, an honorable and also somewhat melancholic goodbye… ARA, a band that brought Memphis all over the world... " (ESC for Rootstime.be)
Eric Schuurmans
5 cd's te winnen!
Wil je daar kans op maken, dan mail je ons gewoon even:
je naam, je adres en de vermelding: THE AMAZING RHYTM ACES
Binnen een aantal weken wordt uit alle inzendingen de gelukkigen getrokken.
Wij hopen dat u massaal Rootstime - hier - zult mailen
De winnaars worden per mail verwittigd.
Album track list CD1: 01.The End Is Not In Sight (The Cowboy Song) – 02. Typical American Boy – 03. Dancing the Night – 04. Out the Blue – 05. One Love – 06. Love's on the Way – 07. Della's Long Brown Hair – 08. The Rock – 09. Lipstick traces [Naomi Neville aka Allen Toussaint] – 10. Dancin' with the One You Love – 11. Guardian Angel – 12. If I Just Knew What to Say [Stuart Wright] - 13. My Tears Still Flow – 14. Anything You Want || Album track list CD2: 01. Waitin' on Sundown – 02. The Last Letter Home – 03. Amazing Grace (Used to Be Her Favourite Song) – 04. Rednecks Unplugged – 05. The Blue Room – 06. Hit the Nail on the Head – 07. Third Rate Romance – 08. The "Ella B" – 09. Love and Happiness [Al Green, Mabon L. Hodges] – 10. Who Will the Next Fool Be [Charlie Rich] – 11. Jerry Fontaine and His Jammin' Guitar / All songs written by: Howard Rusell Smith, James Hugh Hooker (I,3-I,14), Bobby Carmichael (I,4-I,10-II,5), Gary Nicholson (I,5-II,1), Lee Roy Parnell (I,5), J.D. Martin (I,6), Jim Varsos (I,8-II,11), Kathy Louvin (I,11), John Newton (II,3), Earl Bud Lee (II,5), Cunningham (II,11) & Irwin (II,11) or as [noted: I,9-II,9-II,10] © 2020 – Recording Producer: Arne Shumacher, Concert production: Volker Steppat for "Sparkasse in Concert | Album credits: Russell Smith: guitar, vocs (songwriter) / Fred James: guitar, vocs / Billy Earheart III: piano, Hammond organ / Jeff "Stick" Davis: bass, b-vocs / Bryan Owings: drums
Discography THE AMAZING RHYTHM ACES: Moments – Live in Germany 2000, Bremen, March 20th, 2000 (2CD) [2020] | Out of the Blue [2013] | No Worries (DVD) [2011] | Very Best of Amazing Rhythm Aces [2009] | Midnight Communion [2007] | Nothin' But the Blues [2004] | Between You and Us [2001] | Toucan Do It Too/Burning the Ballroom Down [2000)] | Stacked Deck/Too Stuffed to Jump [2000] | Absolutely Live [2000] | Concert Classics, Volume 3 – live [1999] | Chock Full of Country Goodness [1999] | Out of the Blue [1997] | Ride Again [1994] | 4 You 4 Ever: Best of Amazing Rhythm Aces [1982] | Full House: Aces High [1981] | How the Hell Do You Spell Rhythum? [1980] | The Amazing Rhythm Aces [1979] | Burning the Ballroom Down [1978)] | Toucan Do It Too [1977] | Too Stuffed to Jump [1976] | Stacked Deck [1975] |