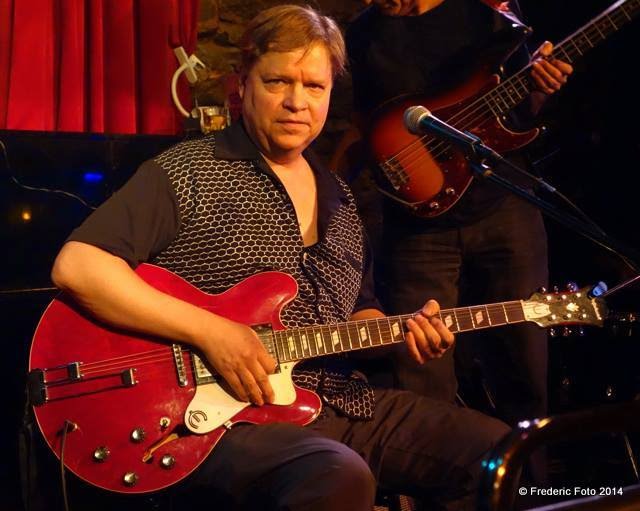 " His music has been compared to everyone from Elvis Presley to Chris Isaak to Scott Walker… "
Op zijn Facebook wordt hij voorgesteld als "An American songwriter, vocalist, harmonica player, and guitarist who brings a unique depth and drama to music, playing his original Blues/Americana…". Phil Gammage doet zijn ding al sinds 2005. Gammage is afkomstig uit Houston, TX maar woont momenteel in New York. Hij bracht 2 soloalbums ('Night Train' en 'Kneel to the Rising Sun') uit in de jaren '90. In voorbije jaren, lang voordat de term "Americana" werd gebruikt, onderzocht Gammage al verschillende blues, country en folk stijlen. Latere releases verschenen in de jaren 2000 op verschillende Amerikaanse en Franse labels. Vanaf 2014 werkte hij aan een veelgeprezen trilogie van albums ('Adventures in Bluesland', 'The American Dream' en 'Used Man For Sale'). Gammage bracht ook enkele (populaire) DIY-muziekvideo's (in zijn kenmerkende zwart-witstijl) uit voor verschillende nummers van recente albums.
Phil Gammage speelt momenteel solo, als een duo (vaak met een drummer), of met zijn volledige band, The Phil Gammage Quartet. Hij verscheen al op meerdere muziekfestivals, waaronder het CBGB Festival, Cosmic Blues Festival, Lancaster Roots and Blues Festival en Blues Craft Summer Festival. Phil Gammage toerde recentelijk solo door Europa en met een volledige band.
De 9 eigen nummers op 'It's All Real Good' werden opgenomen met producer Tony Mann (The Star Spangles, Jayne County, The Hypno-Twists). Het album opent met de titelsong "It's All Real Good" dat zijn no-nonsense-aanpak (en ingesteldheid) uitstekend verwoordt. Met enkele gastmuzikanten (Kenny Margolis: de accordionist van o.a. Willy DeVille en Cracker, percussionist Tony Mann, harpist David Fleming en zangeres Michele Butler) doet Gammage "Luck Don't Pass Us Buy", het folky "Naked in the Rain", het herkenbare "Give Away", "Wandering Stars" en "The Second Time Around". Opmerkelijke nummers zijn verder "Dancing on Top of the World" -Phil's eerbetoon aan de geweldige NYC-muzieklocatie "Windows on the World" (op de bovenste verdieping van het World Trade Center), "Hellcat Maggie" -over de 19de-eeuwse Amerikaanse folk legende, criminele en lid van de Dead Rabbits, Hell-Cat Maggie (1840-1845) (ze was een bekende persoonlijkheid in het Five Points district van Manhattan en viel op door haar tanden, naar verluidt in punten en, haar vingers versierd met lange klauwachtige koperen vingernagels…)- en, het Roy Orbinson-achtige "Let Love Begin".
Een singer-songwriter die iedereen (misschien nog) moet "ontdekken" is ongetwijfeld Phil Gammage. Hij neemt je op zijn 8ste soloalbum 'It's All Real Good' mee doorheen zijn wereld die herkenbaar, maar soms ook heel verrassend en ontnuchterend kan zijn.
" A singer-songwriter/ artist that everyone (perhaps still) has to "discover" is without a doubt Phil Gammage. On his 8th solo album 'It's All Real Good', he takes you through his world that can be recognizable, but sometimes also very surprising… " (ESC for Rootstime.be)
Eric Schuurmans
Release: 13/09/19
10 cd's te winnen!
Wil je daar kans op maken, dan mail je ons gewoon even:
je naam, je adres en de vermelding: PHIL GAMMAGE
Binnen een aantal weken wordt uit alle inzendingen de gelukkigen getrokken.
Wij hopen dat u massaal Rootstime - hier - zult mailen
De winnaars worden per mail verwittigd.
Album track list:
01. It's All Real Good - 02. Luck Don't Pass Us Buy - 03. Hellcat Maggie - 04. Dancing on Top of the World - 05. Naked in the Rain - 06. Give Away - 07. Wandering Stars - 08. Let Love Begin – 09. The Second Time Around
Lyrics/music © 2019 by: Philip Thomas Gammage, unless where else [noted] - Produced by: Tony Mann
Album line-up:
Phil Gammage: vocs, guitar, harmonica / Kenny Margolis: accordion / Tony Mann: percussion / David Fleming: harmonica / Michele Butler: b-vocs
Discography Phil Gammage:
It's All Real Good [2019] | Live at Little Water Radio (EP,4#) [11/2016] | Used Man for Sale [10/2016] | The American Dream, by Adventures in Bluesland (Phil Gammage) [2015] | Keeping the Blues Alive (live album), by John Sinclair with Adventures in Bluesland – Phil Gammage) [11/2014] | Adventures in Bluesland [01/2014] | Guess I'm Falling in Love [2013] | Giveaway [2013] | Tracks of Sound [2003] | Motel Songs [2002] | Motel Songs (compilation) [2002] | Rogue Escapades, by The Scarlet Dukes (Phil Gammage) [1999] | Kneel to the Rising Sun [1991] | Night Train [1990] |