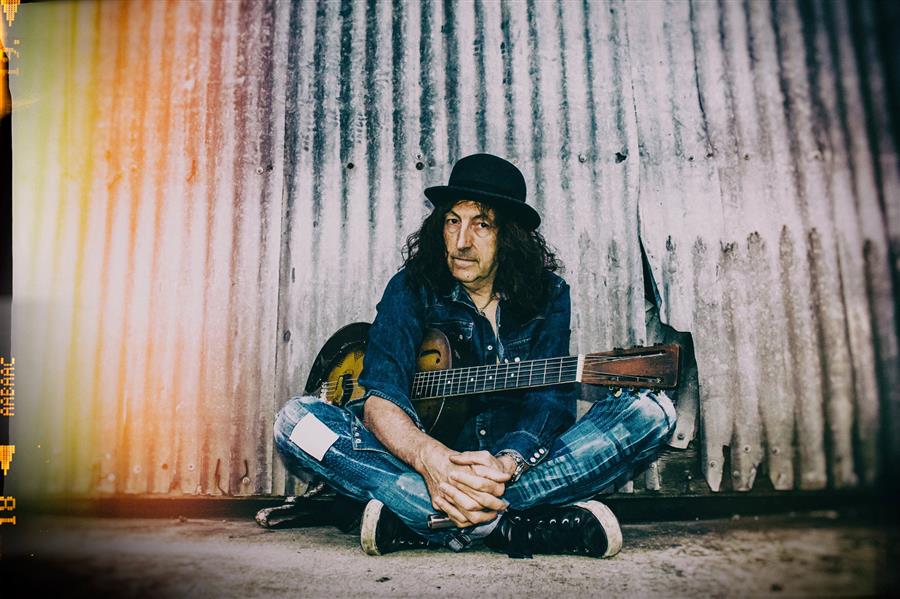 "Overall, a killer bit of raw, bluesy (often heavy) rock..."
Helemaal Down Under kan je Gwyn Ashton tegen komen. Hij is een gitarist/singer-songwriter afkomstig uit Wales, maar immigreerde naar Australië, waar hij met zijn ruwe, harde en dynamisch straatblues al snel het etiket "veelbelovende" opgeplakt kreeg. Hij doet als power duo of als alt one-man blues band.
Op zijn negende studioalbum 'Sonic Blues Preachers' is Gwyn Ashton vergezeld door drummer John Freeman van Fraternity. Fraternity was een Australische prog-rockband die in 1970 in Sydney werd opgericht en in 1971 naar Adelaide verhuisde. Voormalige leden zijn onder meer leadzanger Bon Scott, John Swan en zijn broer Jimmy Barnes.
'Sonic Blues Preachers' opent met "She's What I Like", een fuzzy, ongecompliceerde freak-out rocker, inclusief vervormde zang en een gitaar op hoogste versnelling. Daarna volgt het "vuile" funky "Candy Store", vol met dubbelzinnige teksten en gladde, glibberige slide gitaar, die me wat doet denken aan de rauwheid van Aerosmith in de jaren '70. "Fool In Your Life", of als de nacht roept. Het is een nummer met een typische Deep Purple groove.
"Soul For Sale" is een rustig, somber nummer dat door de melodie doet denken aan de donkere passages van Pink Floyd. Het akoestische "The Old Fool" is gedrenkt in traditioneel Mississippi Delta-gevoel. "Take Yourself Away" valt op door zijn geslaagde vocale harmonieën en "If I Don't Feel It" door zijn aanstekelijke call/answer blueslicks. "She's Lost Her Power" heeft wat bas om de gitaar te ondersteunen en "Waiting Game", de afsluiter, heeft een intro die zich hult in exotisch Indiase nevel, voordat hij overgaat in meer moerassige Delta-blues.
Gwyn Ashton is een muzikale duizendpoot die het graag alleen doet en dan alles -als het maar rauw en hard is- op je loslaat.
" Gwyn Ashton is a musical jack-of-all-trades who likes to do it on his own, as long as it is raw and hard. So is his new release 'Sonie Blues Preachers'… - " (ESC for Rootstime.be)
Eric Schuurmans
10 cd's te winnen!
Wil je daar kans op maken, dan mail je ons gewoon even:
je naam, je adres en de vermelding: GWYN ASHTON
Binnen een aantal weken wordt uit alle inzendingen de gelukkigen getrokken.
Wij hopen dat u massaal Rootstime
zult mailen
De winnaars worden per mail verwittigd.
Album track list:
01. She's What I Like - 02. Candy Store - 03. Fool In Your Life - 04. Soul For Sale - 05. The Old Fool - 06. Take Yourself Away - 07. If I Don't Feel It - 08. She's Lost Her Power - 09. Waiting Game
Words/music © 2019 by: Gwyn Ashton & Garry Allen
Album line-up:
Gwyn Ashton: vocs, guitar / John Freeman: drums
Discography Gwyn Ashton:
Sonie Blues Teachers [2019] | Solo Elektro [2017] | Radiogram [2012] | Petra Börnerová Duo Featuring: Gwyn Ashton, Bornemissza Ádám, Boboš, Miloš Železňák & Dura (Acoustic Session) [2012] Two-Man Blues Army [2009] | | Prohibition [2006] | Fang It! [2000] | Beg, Borrow & Steel [1996] | Feel the Heat [1993] |