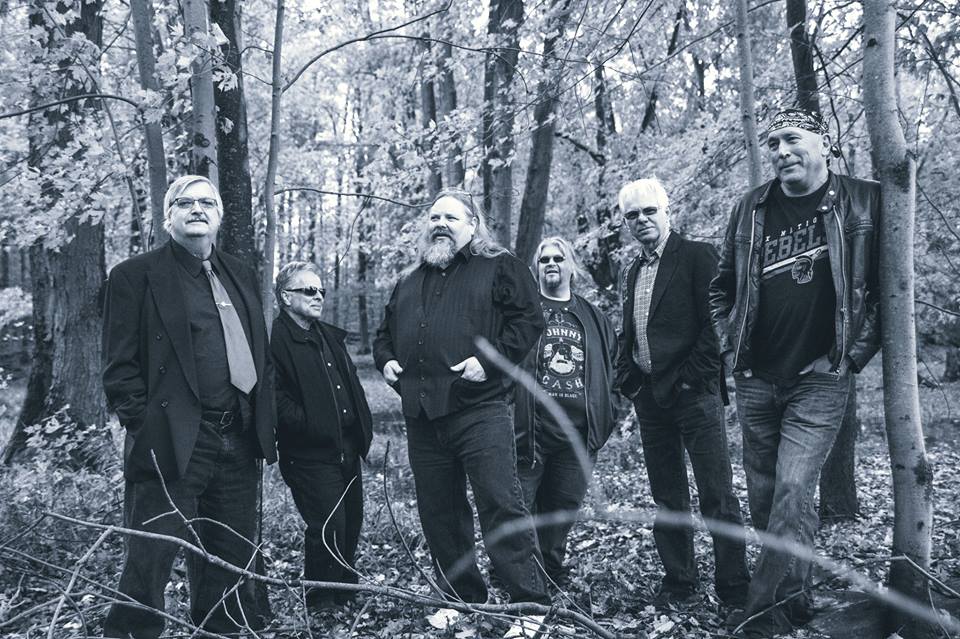 " With 1,7 miljoen Buzz Points in the pocket to the studio… "
De FOG Blues & Brass Band is uit Canada afkomstig. Dit sixtet o.l.v. frontman en zanger Hilliard "Hills" Walter heeft zijn thuisbasis in Kitchener, Ontario. De band is in 2015 opgericht en bestaat verder uit Bobby Becker (keyboards), Al Hosack (bas), Pat Furlong (drums), Dan Jancar (sax) en Tim Palser (gitaren). Bobby Becker was (eind jaren '60) een van de oprichters van de band Yukon. Al Hosack, geboren in London, Ontario, maakte deel uit van een Juno genomineerde en met een CASBY Award bekroonde band, Michaele Jordana & the Poles.
FOG introduceerde hun nummer "Backwoods" op internet via INDI.com in een internationale onafhankelijke songschrijfwedstrijd en verzamelde vreemd genoeg al snel meer dan 1,7 miljoen Buzz Points. Het was voor de band duidelijk dat ze de studio in moest! Ze namen in het voorbije jaar met Juno-bekroond engineer / producer John "Beetle" Bailey hun debuut 'Into the Fog' op. Don Breithaupt (Monkey House, Breithaupt Brothers) schreef de arrangementen voor de blazers. Het eindresultaat, met een knipoog naar de pioneers van het genre, is een klassiek Blues / R&B album.
De tien nummers die ze opnamen, zijn op één na eigen nummers, woorbij ze de hulp kregen van enkele extra blazers en backingzangeres Meg Contini. "Automatic Blues" is de eerste track van het album. Het is een relaxt nummer waarin vooral de zang van Hills en de solo van de alto sax van Larry Bodner opvallen. Met het rustige, wat slepende "Steady Rollin Man" gaat FOG meer richting blues en in "High Maintenance Love" is het Roly Platt, die al van in de intro op harmonica zorgt voor de groove. Na de swingende rocker "C'Mon Down By the River" is er de titelsong "Into the Fog". Hier is het Meg Contini die de reffreinen met haar dromerig gezang verfraait, nadat Jancar op sax zijn solo's over ons laat rollen. In "In the Back Woods" wisselt Jancar de sax voor de fluit, waarna Hills opnieuw erg zelfzeker overneemt. Met de funky shuffle "She's Alright" gaan we naar het einde toe. "One Of a Kind Things", de afsluiter, is de enige folky ballade op het album. 
De FOG Blues & Brass band is een belovende Canadese R&B band die met swingende rockers en goed in de oren klinkende R&B, ons het leven aangenamer wil maken.
" The FOG Blues & Brass band is a promising Canadian R&B band that wants to make life more enjoyable with swinging rockers and good sounding R&B… "  - esc for www.rootstime.be
Eric Schuurmans
10 cd's te winnen!
Wil je daar kans op maken, dan mail je ons gewoon even:
je naam, je adres en de vermelding: FOG BLUES & BRASS BAND
Binnen een aantal weken wordt uit alle inzendingen de gelukkigen getrokken.
Wij hopen dat u massaal Rootstime - hier - zult mailen
De winnaars worden per mail verwittigd.
Album track list:
01."Automatic Blues" [& Bill Mononen]- 02."Steady Rollin Man" [& Steve Ofner, Ralph Boegli]- 03."High Maintenance Love" [& Ted Zawadski]- 04."Would You Care" - 05."C'Mon Down By the River" - 06."Into the Fog" [& Bill Mononen]- 07."Ramblin" [& Bob Young]- 08."In the Back Woods" [& Steve Ofner, Ralph Boegli]- 09."She's Alright" [Joe Mendelson]- 10."One Of a Kind Things" – Written by Hills Walter, Al Hosack, Dan Jancar, Bobby Becker, Pat Furlong, Tim Palsar and [noted] © 2019 – Produced by: John "Beetle" Bailey
Album line-up:
Hills Walter: vocs / Al Hosack: bass / Pat Furlong: drums / Bobby Becker: keys / Dan Jancar: sax, flute / Tim Palsar: guitar & Guests: Pat Labarbara: tenor sax / William Carn: trombone / Larry Bodner: alto sax / Roly Platt: harmonica (3) / Meg Contini: b-vocs
Discography FOG BLUES & BRASS BAND:
Into the Fog [2019] |