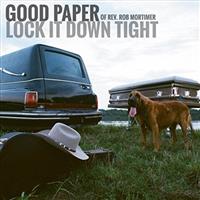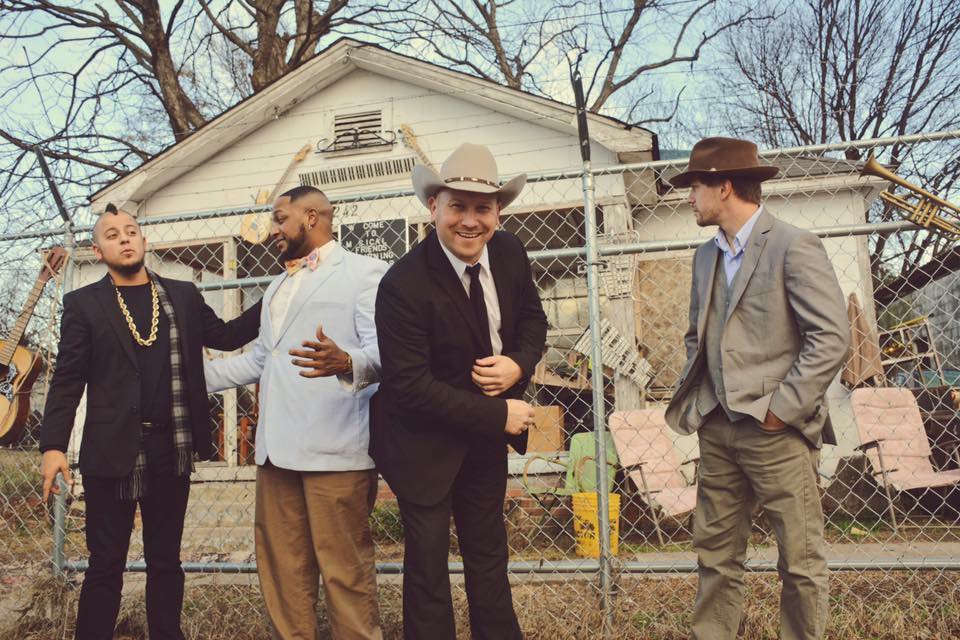 " BLUES is WATER! "
In 2003 nam Rob Bowles Mortimer Jr., hij is woonachtig in de Mississippi Delta, de familiezaak van zijn ouders over. Hij werd de tweede generatie begrafenisondernemer. Daarnaast is hij ook al zo'n achttien jaar reverend, singer-songwriter, muzikant en het nog enige origineel spelend lid van Good Paper. Good Paper was origineel een driekoppige band en bestaat nu uit Robert Mortimer (zang, gitaar, piano, orgel), Jeffrey Tonos (gitaar), David Morgan (bas), Walter Washington (drums), Art Edmaiston (sax), Marc Franklin (trompet & Flugelhorn) en Bob Dowell (trombone).
Als Good Paper debuteerden ze in 2004 met 'Peep' en brachten ze in 2010 nog hun laatste studio album 'Our Stupid Selves'. In september 2018 verscheen er onder de naam Good Paper of Rev. Rob Mortimer 'Lock It Down Tight', waar op de hoes Mortimer's carrière met enkele beelden mooi "samengevat" is. Voor het album schreef Mortimer tien nieuwe songs en nam hij in de American Studios in Memphis, TN, ook een nummer van Tom Waits ("Such a Scream") op.
" Swampy Mississippi Delata-Memphis soul melodies… "
'Lock It Down Tight' is een door de blazers bepaald album. In de openingstrack "(Who's Gonna) Take This Bad Ass Down" drijft de reverend de spot met niet alleen de huidige president, maar ook zijn voorganger, bekend van de Lewinsky-affaire en de éérste president komen even in beeld. Knap is het solo van Jeffrey Tonos, die Mortimer's pleidooi knap verderzet. Het gevecht in liefdesrelaties dat soms satirisch lijkt, is het onderwerp van enkele nummers. Ik noem hier de afsluiter "When I'm Gone", een Muscle Shoals nummer met pompende bas (David Morgan) en "I Hope", een nummer (met Rick Steff even achter de piano) over een toevallige liefde, dat op "The Last Waltz" (The Band) lijkt geïnspireerd te zijn. Ook thuishorend in dit rijtje is "I Don't Need You", het zinloos argumenteren tussen een koppel over niets, waarin de vocale harmonieën opvallen. Tom Waits' "Such a Scream" ('Bone Machine' [1992]) kreeg wat "extra" James Brown en, hoe een koning zich voelt, hoor je in "This Ain't No Throne". "Delta Side of Vicksburg" is een mid-tempo, swampy nummer over de grote de grote rijkdom en conflicterende sociale verschillen in de Mississippi Delta anno jaren 1920. Dat hij ook de begrafenisondernemer is laat hij dooschijnen in "High Ground" en de titelsong "Lock It Down Tight". Rick Steff (Lucero, Hank Williams Jr., Cat Power) horen we op ook op piano en orgel op "Such a Scream" en "When I'm Gone". Ontbreken hier nog op de tracklist het funky soulnummer "You're My Radio" en "She Can't Stand Me". Verder moet ik ook Pete Matthews (percussie) en Toby Vest (orgel, percussie) vermelden om de album line-up te vervolledigen.
" Is this blues? Born on the same soil and swim in and drink of the same Mississippi River water as other great blues men did, for me BLUES is WATER. My songs may not be traditional blues songs, but there is plenty of water in my songs… " (Mortimer explains)
Met 'Lock It Down Tight' zet Good Paper of Rev. Rob Mortimer een nieuw tijdperk in. Het album moet de nieuwe wind doen blazen die nodig is om een band levendig te houden en attractief moet maken. Voor liefhebbers van blues/soul/rock en meer is dit de juiste keuze. 
" With 'Lock It Down Tight' Good Paper of Rev. Rob Mortimer turns a page. The album brings a fresh breeze that is needed to keep a band alive and attractive. For lovers of blues / soul / rock and more, this is the right choice… "  - esc for www.rootstime.be
Eric Schuurmans
10 cd's te winnen!
Wil je daar kans op maken, dan mail je ons gewoon even:
je naam, je adres en de vermelding: GOOD PAPER OF REV. ROB MORTIMER
Binnen een aantal weken wordt uit alle inzendingen de gelukkigen getrokken.
Wij hopen dat u massaal Rootstime - hier - zult mailen
De winnaars worden per mail verwittigd.
Album track list:
01."Who's Gonna Take This Bad Ass Down" - 02."I Don't Need You" - 03."This Ain't No Throne" - 04."Delta Side of Vicksburg" - 05."High Ground" - 06."Such a Scream" [Thomas Alan Waits] - 07."You're My Radio" - 08."She Can't Stand Me" - 09."I Hope" - 10."Lock It Down Tight" - 11."When I'm Gone" – Written by Robert Bowles Mortimer Jr., except where otherwise [noted: 6] © 2018
Album line-up:
Robert Mortimer: vocs, guitars, pianos, organs, mellotron / Jeffrey Tonos: guitars, b-vocs, synth / David Morgan: bass, b-vocs / Walter Washington: drums & Art Edmaiston: tenor & baritone sax / Marc Franklin: trumpet & Flugelhorn / Bob Dowell: trombone / Rick Steff: piano, organ (6,9,11) / Toby Vest: organ, percussion / Pete Matthews: percussion
Discography (GOOD PAPER OF) REV. ROB MORTIMER:
Lock It Down Tight [2018] | Our Stuped Selves [2010] | Peep [2004] |