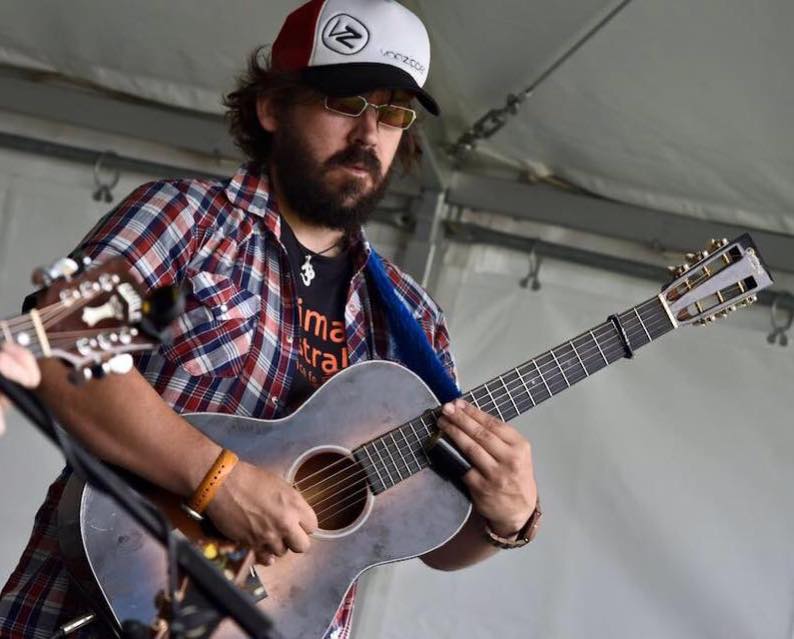 " Acoustic blues played by an expert from Down Under… "
Cal Williams Jr is een singer-songwriter en Delta blues muzikant uit Adelaide, South Australia. Om Cal Williams Jr te typeren, heb je maar twee begrippen nodig: een voortreffelijk fingerpicking en slide gitarist én een uitstekend zanger.
Williams bracht al meerdere studio albums uit waarmee hij awards won. Hijzelf haalde ook al meerdere awards ("South Australian Songwriter of the Year" – SCALA / "Professional Development Award" - APRA Finalist). In 2009 debuteerde Carl Willims Jr met 'Morning Star' (Blues Underground USA: "Best Australian Blues Album 2009" / SA Roots & Blues: "SA Blues Album of the Year 2009"). In 2015, als opvolger van 'Little Black Crow' dat hij in 2013 uitbracht, verschenen twee nieuwe solo albums: 'Low Down & Troubled' en 'Radio Sessions'. Op 'Low Down & Troubled' staan tien nieuwe songs en op 'Radio Sessions' staan een verzameling van songs die hij live "on air" deed voor Radio Adelaide, in december 2014. Beide albums overlappen elkaar qua track list een beetje. Beide albums zijn een mengeling van fingerpicking, slide gitaar en Delta blues.
'Luma' has subtle flavours of Mississippi John Hurt blended with the British folk-blues sound of Davy Graham, John Martyn and Nick Drake…
We hebben "even" moeten wachten, maar drie jaar later is er, het werd opgenomen in de Red Brick studio in Adelaide, SA, zijn nieuwe (blijkbaar zijn tiende) album 'Luma'. Voor wat hulp zorgden zijn muzikale partner in crime, contrabasvirtuoos Kory Horwood, de Canadese mondharmonicawizard Will Kallinderis en, de veelgeprezen countrymuzikant Anthony Stewart op mandoline. Beiden zorgden voor de nodige "accenten" bij het samenspel tussen gitaar en bas.
'Luma' combineert ingewikkelde fingerpicken melodieën met aansturende basritmes om een akoestisch album vol spannende bewegingen te kunnen creëren.
Met zijn muzikanten, vijf eigen nummers, vier covers en een traditional trok CW JR de studio in. Al in de opener "I Cannot Help From Crying" vanaf de eerste snelle fingerpicken, valt Williams' sublieme gitaarstijl op, waarbij zijn stem hoog en hemels klinkt. Booker White's "Aberdeen (Mississippi) Blues" uit 1940 is een blues klassieker en een mooie (wat korte) ode aan deze pionier. Zijn tweede cover keuze is J.B. Lenoir's "Down in Mississippi", gevolgd door "Old Town" dat je hart opwarmt. In "Redwood City" zit veel moois op harmonica van Will Kallinderis en van "Luma" werd ik sprakeloos. "What Are They Doing" is een traditional en "Tumble In the Wind" van Jackson C. Frank, een nummer uit 1965 dat in meerdere versies opgenomen werd. Cal Williams JR rond af met het meest bluesy nummer van het album, "Turn Your Money Green". In dit nummer van Furry Lewis uit 1928 zingt hij: "Come on mama, turn your money green!...". Hopen dat dit geluk brengt!
Cal Williams Jr is muzikaal een fenomeen. Zijn unieke, onberispelijke gitaarstijl en zang zijn uitzonderlijk. Dit alles en meer maakt hem uitzonderlijk en uniek.
" Cal Williams Jr is musically a phenomenon. His unique, impeccable guitar style and singing are exceptional. All this and more make him unique… "  - esc for www.rootstime.be
Eric Schuurmans
10 cd's te winnen!
Wil je daar kans op maken, dan mail je ons gewoon even:
je naam, je adres en de vermelding: CAL WILLIAMS JR
Binnen een aantal weken wordt uit alle inzendingen de gelukkigen getrokken.
Wij hopen dat u massaal Rootstime - hier - zult mailen
De winnaars worden per mail verwittigd.
Album track list:
01."I Cannot Help From Crying" - 02."Aberdeen Blues" [B. White] - 03."Eileen" - 04."Down in Mississippi" [J.B.Lenoir]- 05."Old Town" - 06."Redwood City" - 07."Luma" - 08."What Are They Doing" [traditional] - 09."Tumble In the Wind" [J.C.Frank] - 10."Turn Your Money Green" [Lewis] – Written by Cal Williams Jr, except where otherwise [noted] ℗ 2018 – Produced: Cal Williams Jr
Album line-up:
Cal Williams Jr: vocs, guitar / Kory Horwood: double bass, vocs / Will Kallinderis: harmonica, vocs / Anthony Stewart: mandolin
Discography CAL WILLIAMS JR.:
Luma [2018] | Radio Sessions, recorded at Red Brick Studio in January 2015 [2015] | Low Down & Troubled, recorded live-to-air at radio Adelaide by Phil Van Houten [2015] | Little Black Crow [2013] | Honeychild [2012] | King Billy [2011] | Morning Star [2009] |